KNOW YOUr ghosts:
Garrote House
GARROTE HOUSE (Various) – Built by shipping magnate Oliver Hedgewood, Garrote House (formerly the Hedgewood Estate) is not only haunted by the spirits of many former residents, but is believed by some to be plagued by an entity many paranormal investigators and spiritual mediums have called "demonic," or "cursed." While the ghosts you will encounter inside are real, there is no concrete evidence that any such malignant supernatural force exists within its walls. Several deaths occurred during construction of the house, though it was not uncommon at the time due to poor labor conditions. The house was passed down through the generations of Hedgewoods, from Oliver to his widow Charlemagne, to their eldest son Horace, to his eldest Ernest. Upon Ernest's death, the house lay abandoned for several decades, believed by locals to be cursed. Garrote House has a long history of suicide. Teenagers and indigents fell victim to its allure, and paid the price with their lives. In the late-'70s it was owned by world-renowned sculptor Clayton Odell, who brutally murdered his entire family before killing himself. Finally, it was purchased by Rex Garrote in 1981. The last surviving Hedgewood, an orphan, sold it for far less than its value. Garrote wrote his most successful books there, and it was suggested he was merely a vessel translating the true horrors of the house onto the blank page. Garrote committed suicide there in 1999, the house abandoned yet again… but never alone.
REX GARROTE (1947 - 1999) – While not one of our "ghosts," you will encounter Mr. Garrote's likeness throughout the park as a holographic host to many of the exhibits. Mr. Garrote burst onto the horror scene in the late-1970s with A Roller-Coaster Ride Thru Hell, a violent, psychedelic retelling of Dante's Inferno. He wrote several dozen novels over his lifetime, multiple screenplays and teleplays, and created the short-lived television series Ghost World, which he also hosted. His career truly flourished after his purchase of Garrote House, previously the Hedgewood Estate. It was believed by some that the spirits of the house influenced his output from the late-'80s through the '90s. In 1999, his cremated remains were found in his library. Though police suspected self-immolation, the case is still considered "cold." Among all the spirits visible at Garrote House, Mr. Garrote himself has never been seen.
​
View Rex Garrote's Wiki.
​
Left: Author photo from the Shoki dust jacket, 1984.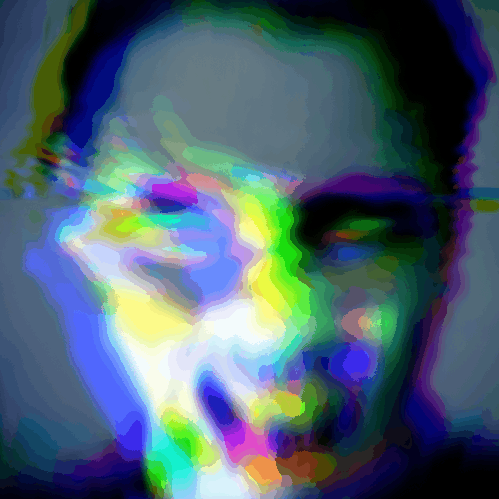 OLIVER HEDGEWOOD – A shipping magnate by trade, after Hedgewood built his enormous estate he began to diversify his investments into acquiring curiosities and objets d'art of both a macabre and sexual nature from around the globe. His most prized possession was a bronze fist and phallus amulet from Rome, 150 - 200 A.D. He was alleged to rub this furiously to achieve arousal. Hedgewood's corpse was discovered in the kitchen by his wife, upon returning from an extended vacation in the Geneva. He had apparently shot himself in the head with a shotgun. He was survived by three children.
​
Right: Oliver Hedgewood, after his first marriage.
CLAYTON ODELL – aka "The Behemoth." Odell became a darling of the 1970s art scene with his found-object sculptures, fusing human likenesses with mechanical and structural parts. His work was displayed in prominent galleries all over the world, from the MOMA in New York to Kunstmuseum Basel in Switzerland. It wasn't long after purchasing the Hedgewood Estate (Garrote House) that his behavior began seeming "off." Critics and colleagues suspected fame had gone to his head. With less than six months spent in the new house, Clayton sleepwalked to his studio to retrieve some tools, whereupon he killed first his sleeping wife and then his two newborn children. He cut apart their bodies and fused them into a monstrous sculpture made of flesh, which he wore before killing himself. The tragedy made world headlines. However, Odell's art fell into disfavor, sold off to private collectors with a taste for the macabre.
​
Left: Art student's portrait of Clayton Odell in 1990.